Mindful Movement & BodyRhythms presents
'WISDOM OF OUR BODY
A dance health and wellbeing day, 4th June / 10am to 3.30pm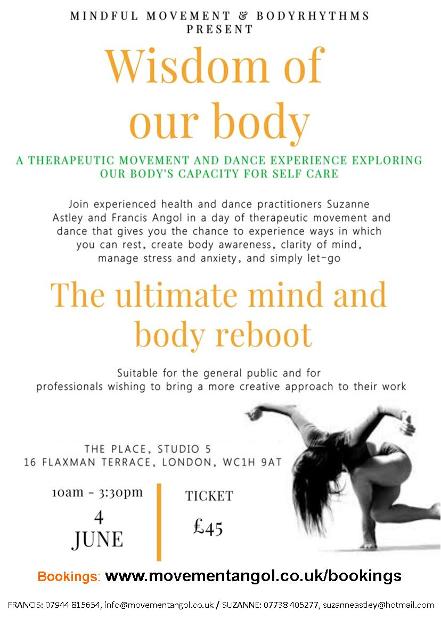 A day to rest, relax and let-go to discover freedom and ease through moving one's presence within an intuitive dialogue of movement, dance, imagery and the imagination. Unlock tension, release anxiety and allow your body to relax. A dance health and wellbeing day exploring the wisdom of our body and its capacity for self care through movement, dance meditation and connective visualisation.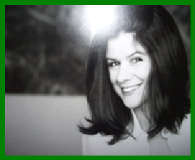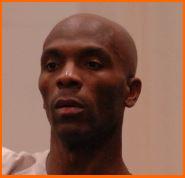 Suzanne
is a Somatics Movement Educator and Senior Lecturer in Dance Studies, working in Higher Education and community practice for many years. Suzanne's work is highly influenced by improvisational techniques that involve exploring the body in a manner that heightens individual consciousness, focusing on an individual approach that uses improvisation techniques, training of alignment and movement, body-mind integration work to explore the body. Suzanne's work is grounded in the art of Somatic practice and framed within her unique individual approach that is influenced by dance/yoga, experiential anatomy and release technique, which allows the individual to find more connectivity in the body. Suzanne promotes health and well-being, teaching people how to incorporate skills they have learnt from her practice into their everyday lives.
Francis is a Somatics Movement Educator, performer, choreographer and lecturer who has been working in the field of dance for many years. Over the span of his career, Francis has accumulated an enriched pool of knowledge and understanding of the healing properties of movement and dance as an all embracing, and empowering therapeutic tool of development.
Francis's work synthesises this knowledge with that of his lived experience, to help individuals bring about positive change in their lives.
Drawing from the rich cultural properties of Eastern, African and Western philosophical teachings and practices, Francis works with individuals to unlock the many possibilities for self actualisation, growth and development. As a practitioner he offers individuals the opportunity to bring about a more conscious awareness of one's self, so as to explore personal pathways into the physical and mental body, to reclaim a deeper sense of self.
For Movement Angol weekly classes please click here