Event Archive
Please note that events listed are now ended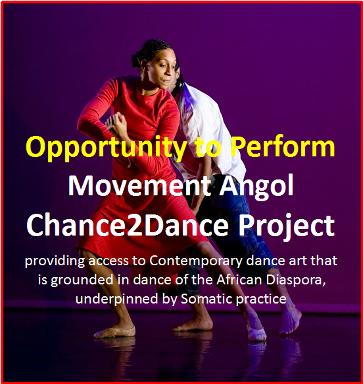 Opportunity to Perform at Montage Festival of Dance

Sadler's Wells - Lilian Baylis Theatre, 19th July 2019

Movement Angol is offering dance enthusiasts the chance to take part in a dance enrichment programme that will give you the opportunity to perform, develop and expand one's knowledge and experience of dance cultures and performance practice.

The project, led by performer / choreographer and lecturer in dance Francis Angol, will be working within his 'Embodied Flow' movement modality, exploring his approach to Contemporary dance art that synthesises Western Contemporary dance, with that of the teachings and practices of dance from the African Diaspora. The programme is underpinned by Somatic practice, which is a field within body work practice that teaches you how to deepen your awareness of the body and the processes going on within, through internal physical perception and experience, to enrich one's physical expression.

During the project you will be working to develop a performance piece that will be performed at the Montage Festival of Dance, Sadler's Wells - Lilian Baylis Theatre, on 19th July 2019. Please note that this project is not suitable for people who are new to dance. Participants are expected to have some experience of engaging with dance within a semi-professional, community or professional context, having the ability to cope with the technique and style of dance to be explored.

Project Schedule:

The project will be delivered over a 10 week period, starting 5th May, meeting every Sunday for a 2½ hour session, between 4pm to 6.30pm at, Islington Arts Factory, 2 Parkhurst Rd, London N7 0SF. The sessions will consist of a 1½ hour technique class, followed by 1 hour of choreographic devising. The project also offers the option to only participate in the technique sessions if you wish not to perform.

What you will learn:

In this ten week programme, you will focus on the articulation of fluidity through the body within a postural flow that represents the body's natural engagement and response to rhythm and movement. You will learn how to undulate your spine, strengthen your back, limbs and core to lengthen your body and extend your range of movement and flexibility in a more fluid, and embodied manner. You will explore the dynamic interplay between movement, breath, weight and rhythm in relation to one's own physicality.

The work is underpinned by a strong musical resonance and structured to allow participants to develop a deepened awareness of self through an experiential journey. The style, structure and use of dance, allows students to work through dynamically stimulating movements and choreography through a landscape that will enrich your spirit and movement language.

Cost: £165 (Technique and Choreography session, including performance costume)

This is a great opportunity to expand one's knowledge and understanding of dance cultures, working within an embodied perspective drawing from African and European dance practices.

For more details please contact Movement Angol on:

07944 815654 / info@movementangol.co.uk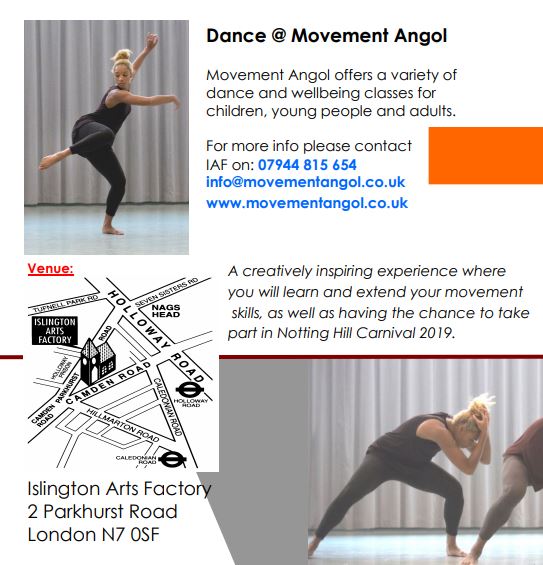 Programme Facilitator / Choreographer: Francis Angol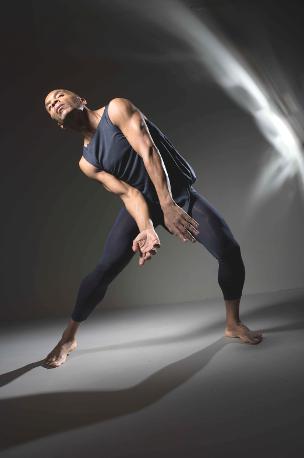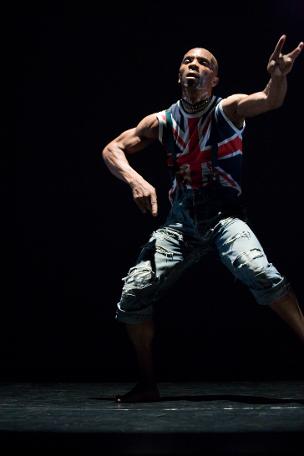 Francis has been working in the field of dance for over 30 years, performing, teaching and producing works that have contributed to the enrichment of British dance culture through the production of a range of training programmes, classes, courses and performance works.
As well as being a performing artist / choreographer and dance educator, he holds the position of Associate Lecturer in dance at the University of Surrey and Coventry University. Francis is also a Somatics Movement Educator and a dance health & wellbeing specialist. In addition he also holds the position of Director of Dance at Islington Arts Factory, a creative hub of art, dance and music in the heart of North London.
He is the founder and Artistic Director of Movement Angol dance, a UK based Dance Company which produces work that blends the teachings and practices of Western Contemporary dance with dance from the African Diaspora, underpinned by Somatic practice, to form his distinctive language of expression.
Over the span of his career, Francis has worked extensively nurturing individuals at higher and further education as well as within professional and community practice. Through his work, Francis enables people by creating opportunities for intercultural exchange and dialogue. He synthesises cultural traditions with contemporary norms to offer individuals a space for self actualisation, through exploration and expression. Francis strives to encourage change by influencing the future, through impacting the present with work that is accessible, inclusive and is physical and mentally empowering.
Over the years, Francis has worked to develop his distinctive technique referred to as - 'Embodied Flow'. This is his individual approach to Contemporary dance art, which involves drawing from the philosophical teachings and practices of dance from the African Diaspora and Western Contemporary dance practice, as the basis for movement development and artistic expression, to originate a movement synthesis defined as Contemporary African dance.
The approach taken to the work is deeply rooted in the spirituality of the self, a way of life that taps into the unspoken rhythmic dialogue of mind and body, to form a unique cultural synthesis in movement form. The practice is a way of allowing the individual to journey through a widening field of possibilities, folding presence with existence to allow self-expression to organically unfold, offering individuals a fresh and creative approach to engage with their body. The approach awakens the inner self through a dialogue of movement, rhythm, dance, imagery and the imagination.
As a performer / choreographer and creative educator, Francis works to synthesise his accumulated knowledge of dance and the arts, with that of his lived experience, to help individuals bring about clarity, meaning and understanding to their physical flow.